Suicide Prevention
Babana works with the local community to hold the Annual Coloured Diggers Anzac event. This is one of a few across the nation which focuses on the important work that Aboriginal and Torres Strait Islanders have done to protect our country. The Babana Aboriginal Men's Group, The Aboriginal and Torres Strait Islander Veterans and Service Association and the Coloured Digger Committee organise the annual Coloured Digger Anzac event in Redfern. This is an annual event where both Indigenous and Non Indigenous returned service personnel and community can join together to Honour, recognise and respect Aboriginal and Torres Strait Islander servicemen and servicewomen. ​ The Redfern Aboriginal ANZAC Day Commemoration:
Appropriately honours, recognises and respects Aboriginal and Torres Strait Islander servicemen and servicewomen.
Raises awareness in the wider community about the service and sacrifices of Aboriginal and Torres Strait Islander people and their families.
Highlights the need for greater recognition of Aboriginal and Torres Strait Islander Servicemen and Servicewomen in official commemorative ceremonies and at memorials.​
The Redfern march and service on ANZAC Day gives some Aboriginal and Torres Strait Islander people their first opportunity to honour, recognise and pay respect to grandfathers, fathers, mothers and aunties and uncles. For some of our people, the Redfern march and service and others like it give ANZAC Day real meaning for the first time.
The Redfern Commemoration is an affirmation of community, family and mateship. It is not a celebration of war and violence. Aboriginal, Torres Strait
Islander and non-Indigenous people come together at this event.
The Redfern ANZAC Day has prompted calls by NSW Aboriginal and Torres Strait Islander Diggers and their families for a commemorative sculpture or memorial recognising their service and sacrifice.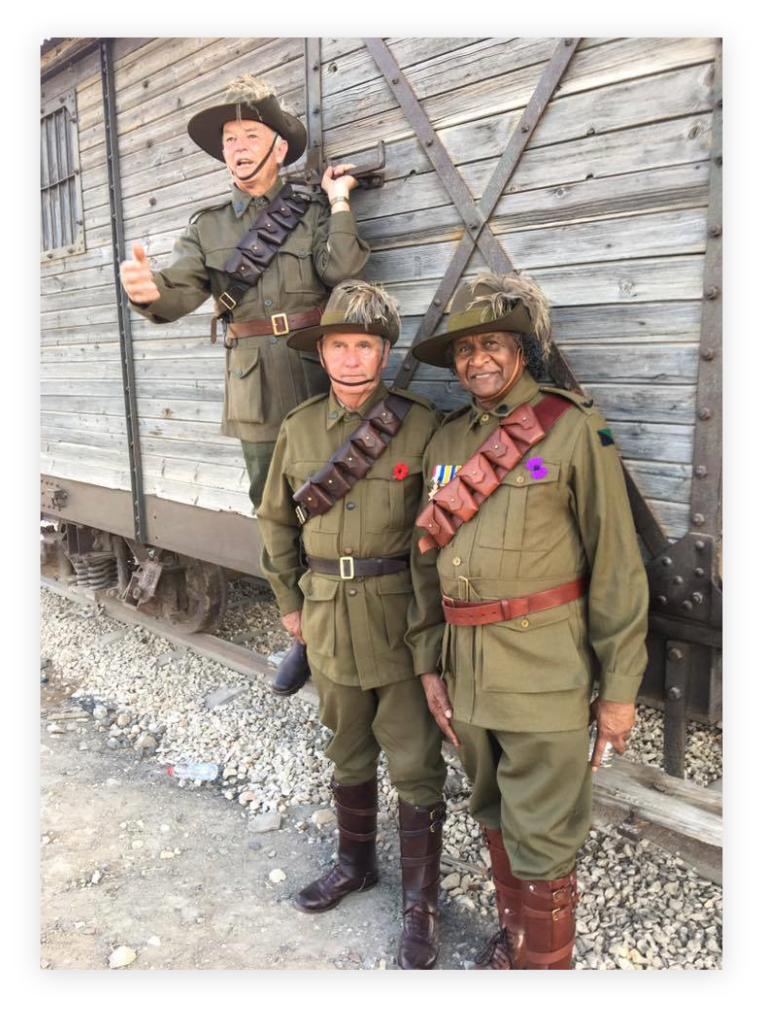 What does ANZAC Day mean to Australians and New Zealanders? Well, after a shared history going back many years it comes down to remembrance. In both World Wars and in every conflict since we have served side by side but when it comes to Aboriginal and Torres Strait Islander peoples that service and our stories have often been lost. Over the last decade Babana Aboriginal, our supporters and army of volunteers have done a significant amount of work to re-discover those stories and bring them back to life through the annual ANZAC Day Coloured Diggers March. For the last more than a decade we have watched the march grow from a handful of people to now more than five thousand. In 2018 we also achieved some firsts with the participation of Australia's Foreign Minister, Julie Bishop and the New South Wales RSL. But, its our community that sits at the centre of what we do and our people whose stories paint the picture of service from through-out the years.